Yuzu is a super fragrant citrus that is just amazing. It is an important part of Japanese cuisine and culture.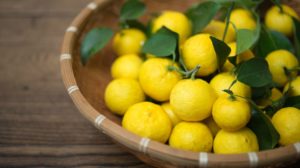 It's flavour is hard to describe but lands somewhere between a mandarin, lime and grapefruit.
It is used just like a lemon and has flavourful tart juice but it is the zest of fresh yuzu that really showcases the fruit's full aroma. Apart from it's culinary uses the fresh yuzu is traditionally popped into baths where it's aromatic properties improve mood and the oils soften the skin and are thought to aid in the resistance to colds.